Audi Q5 Restyle White
Rent with a driver*
per hour
for wedding
transfer to airport
min. order
from 25$
from 35$
75$
from 25%
Promotion – discount 10% when renting a car for a day
Audi Q5 Restyle White
For a wedding, holidays, for a business trip or for a long journey – rent Audi Q5 with a driver will leave you unforgettable impressions.
Rent Audi Q5 White with driver
Transfer to the airport, railway station, sanatorium, adjacent city and throughout Belarus.
Audi Q5 Rental with a driver will be the best solution for the trip of the fence, including off-road – the four-wheel drive Quattro Torsen gives the opportunity to move and on zybuchim sands, and by rather deep clay rings.
The 3-zone climate allows you to choose a comfortable temperature to any passenger at any time of the year.
Prestige and reliability, luxury of white color and convenience in any weather.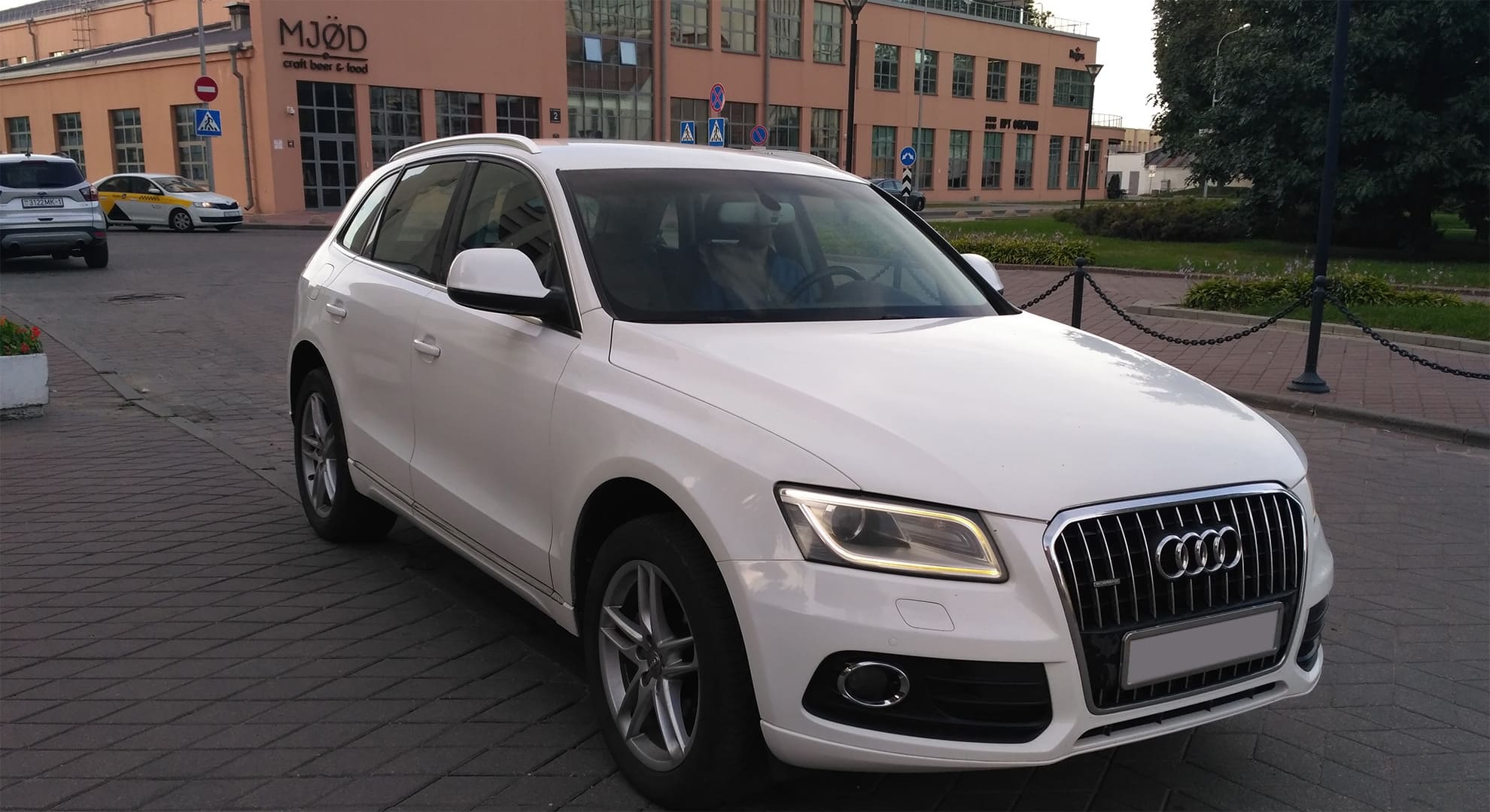 Car rental Audi Q5 with driver in Minsk:

Internet access (free Wi-Fi)
Drinking water.
Silence or your favorite music: CD, memory card, radio station
For your phone or laptop – charger.
Premium leather interior. The backs are adjustable separately.
Polite and non-smoking driver.
When renting a car for more than 1 day – 10% discount.
AUX input.
A spacious trunk at 540 liters with an electric drive, with folded seats — 1560 liters.
Folded seats are allowed to comfortably relax a person in full growth to 1.75m
Rear seat back folded separately.
The rear row armrest with cup holders.
Curtains on the windows of the back row of seats.
Fastening for children's seat ISOFIX
Our car is fed washed and polished, with an absolutely clean interior.
Wi-Fi: free.